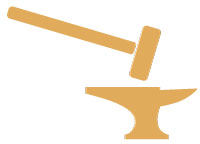 The material - for individual requirement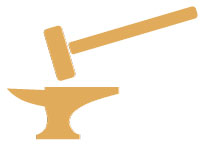 In our workshop, we exclusively use raw materials, which are made from German gold and silver refineries and were processed by us. In the goldsmith's workshops we exclusively process precious metals and genuine gemstones and diamonds from the quality tw/vsi. The precious metals and gems you receive are low priced, because you only pay what you consume.
1. Fair traded precious metals:
On request we offer fairly traded precious metal degraded without mercury. The additional costs are around 15 euros per gram. If you are interested, please inquire at the preliminary talk!
2. Purchase of old gold:
Do you want to pay less for your rings and jewelry? Bring us your old gold and jewelry for allocating! Broken chains, gold teeth (even with teeth) and single earrings can be found in almost every jewelry box or drawer........ old gold has never been more valuable!!!
3. The guest at the wedding ring course:
Would you like to have beautiful pictures of your "ring forging" adventure? Let your own guest take them! Take it as a special gift for your groomsman, your sister or mother in law.... because your guest can make their own silver ring during the course. In return the guest is responsible for your pictures. Important: This offer is strictly subject to availability of space and limited to one guest per couple. It always requires prior consultation with the instructor.
4. Small repairs of jewelry:
We can solder a gold chain, enlarge and polish an old ring or set one earring on your course day, often free of charge .... simply bring your jewelry.
A small selection of colors and profiles:
Exterior vault
Interior vault
Outside flat,
subtly embossed inside
Outside flat,
subtly embossed inside

Lens/Navette
Inside and outside
embossed, tapering

Oval

Thick oval

Subtly embossed inside and
strong embossed outside
Subtly embossed outside and
strong embossed inside
Round profile

Rectangle
Inside and outside flat

Special shapes according
to your wishes

  Platinum        White gold        Yellow gold        Red gold        900er Gold